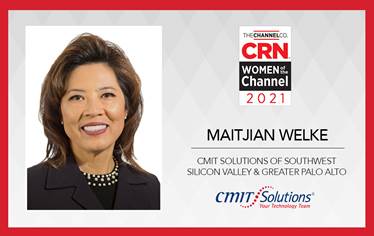 SAN JOSE, Calif. – CMIT Solutions of Southwest Silicon Valley and Greater Palo Alto, one of the region's leading providers of information technology (IT) solutions, announced CRN®, a brand of The Channel Company, has named Maitjian Welke to the highly respected Women of the Channel list for 2021.
The women honored on this year's list pushed forward with comprehensive business plans, marketing initiatives and other innovative ideas to support their partners and clients, helping them through the uncertainty brought on by the global COVID-19 pandemic. This annual list recognizes the unique strengths, vision and achievements of female leaders all over the IT channel, including vendors, distributors and solution providers.
"Being concise and consistent is something that I find invaluable to a companies' success," said Welke. "I am fortunate enough to have been recognized by CRN for my contributions as a leader in the IT community. It is an honor to be included on this list that highlights many amazing women who are leaders in this industry. IT would not be where it is today without all of their expertise and vision."
Welke is a six-time recipient of the award. Through the years, she has remained dedicated to elevating the success and visibility of women within the IT industry. She is a recognized leader in the Diversity Supplier communities serving on the Board of Directors at Industry Council for Small Business Development. Welke has also been a longtime member of the Western Regional Minority Supplier Development Council advocating for minority-owned companies. In 2021, she was invited to be on the Board of Directors for USPAACC West Region.
"CRN's 2021 Women of the Channel list acknowledges accomplished, influential women whose dedication, hard work, and leadership accelerate channel growth," said Blaine Raddon, CEO of The Channel Company. "We are proud to honor them for their many accomplishments and look forward to their continued contributions to the IT channel."
CMIT Solutions' services help small and mid-sized companies keep their strategic IT goals in focus by ensuring their computer systems are running, their data is protected, their network is secure and – most importantly – their employees are productive. As a result, business owners benefit from increased efficiency, strategic information technology advice and the ability to implement technology changes to improve their competitive posture.
The 2021 Women of the Channel list is featured in CRN® Magazine and online at www.CRN.com/WOTC.
About CMIT Solutions
CMIT Solutions (CMIT) is a leading provider of information technology (IT) professional services and products to small and mid-market businesses, and is uniquely capable of supporting businesses anywhere, coast to coast in the United States and Canada. By focusing on developing and maintaining local, trust-based relationships with its customers, CMIT is able to meet all of their IT needs. CMIT offers a wide variety of services and solutions including computer monitoring, help desk, back-up & recovery, DNS filtering, cybersecurity, and more. CMIT is uniquely able to offer enterprise-class solutions, at prices small businesses can afford. CMIT has been ranked number one in its category in Entrepreneur magazine's Franchise 500® list for seven consecutive years. Because of its growing geographic presence and partner programs, CMIT is a channel for larger firms desiring to reach the small and mid-market businesses in the United States.
For more information, please visit www.cmitsolutions.com
About The Channel Company
The Channel Company enables breakthrough IT channel performance with our dominant media, engaging events, expert consulting and education, and innovative marketing services and platforms. As the channel catalyst, we connect and empower technology suppliers, solution providers, and end users. Backed by more than 30 years of unequalled channel experience, we draw from our deep knowledge to envision innovative new solutions for ever-evolving challenges in the technology marketplace. www.thechannelcompany.com