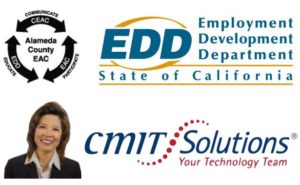 Topic: Essentials on Data Protection: Your Ultimate Business Guide on Handling Cyber Security
When: Tuesday, July 27, 2021, from 10:00 a.m. to 11:15 a.m. PT
Where: This is an online event.
The Employer Advisory Council (EAC) of Alameda County and the Employment Development Department (EDD) want to support you and your company with virtual educational opportunities. Join our webinar to learn from our IT infrastructure and cyber security chief of CMIT Solutions, Silicon Valley.
Presenter: Maitjian Welke,
Chief Security Officer, CMIT Solutions Silicon Valley