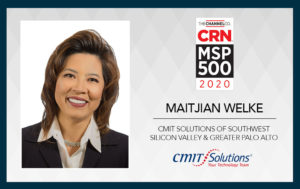 SAN JOSE, Calif. – CMIT Solutions of Southwest Silicon Valley and Greater Palo Alto, one of the region's leading providers of information technology (IT) solutions dedicated to delivering enterprise-class IT support to the small and medium-sized business community, announced today that CRN®, a brand of The Channel Company, has named Maitjian Welke to its esteemed 2020 Women of the Channel list.
Recognizing the unique strengths, vision and achievements of a select group of women, this prestigious, annual list acknowledges channel leaders who are blazing a trail for future generations. These women are from all areas of the IT ecosystem, including technology vendors, distributors, solution providers and other IT organizations.
Welke was selected by the CRN® editorial team for her contribution to advocacy within the technology channel, growth, thought leadership and dedication to innovation in the IT industry.
"CRN's 2020 Women of the Channel list recognizes an accomplished group of influential women leaders whose strategic vision and unique achievements accelerate channel growth through cultivated partnerships, innovative thought leadership, and unwavering dedication to the IT channel," said Bob Skelley, CEO of The Channel Company. "We are proud to honor them for their accomplishments and contributions to driving channel success."
This is Welke's fifth-time receiving the award. She continues to pave the way for other women in the IT industry and just last year, celebrated the 10-year anniversary of CMIT Solutions of Southwest Silicon Valley and Greater Palo Alto. Her continued efforts in evolving her business from a managed service provider (MSP) to a managed security service provider (MSSP) with a focus on cybersecurity has earned her a spot as a panelist at three cybersecurity related conferences and an expo in Silicon Valley Bay Area in the past year.
"I feel honored that CRN continues to acknlowedge my efforts in being a thought leader within the IT community," said Welke. "Every day, my focus is to provide my clients with the most innovative solutions and be a partner they can trust. I know many of the women on this list have made the same commitment and together we can keep on moving the needle forward for women in this industry."
Offering a broad spectrum of proactive computer maintenance, monitoring, and virtual technology packages, including cloud computing and hosting, along with quick response services when unexpected crises occur, CMIT Solutions has carved out its niche as an industry innovator that specializes in working with the small and mid-market business community.
The 2020 Women of the Channel list will be featured in CRN® Magazine on June 8 and online at www.CRN.com/WOTC.
About CMIT Solutions
CMIT Solutions (CMIT) is a leading provider of information technology (IT) professional services and products to small and mid-market businesses, and is uniquely capable of supporting businesses anywhere, coast to coast in the United States and Canada. By focusing on developing and maintaining local, trust-based relationships with its customers, CMIT is able to meet all of their IT needs. CMIT offers a wide variety of services and solutions including computer monitoring, help desk, back-up & recovery, DNS filtering, cybersecurity, and more. CMIT is uniquely able to offer enterprise-class solutions, at prices small businesses can afford. CMIT has been ranked number one in its category in Entrepreneur magazine's Franchise 500® list for seven consecutive years. Because of its growing geographic presence and partner programs, CMIT is a channel for larger firms desiring to reach the small and mid-market businesses in the United States.
For more information, please visit www.cmitsolutions.com
About The Channel Company
The Channel Company enables breakthrough IT channel performance with our dominant media, engaging events, expert consulting and education, and innovative marketing services and platforms. As the channel catalyst, we connect and empower technology suppliers, solution providers, and end users. Backed by more than 30 years of unequalled channel experience, we draw from our deep knowledge to envision innovative new solutions for ever-evolving challenges in the technology marketplace. www.thechannelcompany.com
Follow The Channel Company: Twitter, LinkedIn, and Facebook
Copyright ©2020. CRN is a registered trademark of The Channel Company, LLC. All rights reserved.